Laughter Yoga (also know as Laughter Therapy) was developed by Dr Madan Kataria, a medical doctor from Mumbai, India. The practice combines laughter-based activities, clapping and breathing to form an easy to learn and enjoyable exercise routine. Laughter Therapy has grown rapidly from it's humble beginnings with 5 people in a park in Mumbai. Some 15 years later Laughter Yoga (Therapy) is practised and enjoyed by participants in more than 6000 laughter clubs in approximately 65 countries world-wide and it's still growing fast.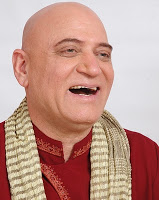 We have all heard the truism 'laughter is the best medicine' and now we know why. Laughter yoga (laughter therapy) is based on this scientific fact: your body is unable to distinguish between real and simulated laughter. In other words, 'real' laughter and 'fake' laughter both provide the same benefits to our minds and bodies. Research shows that while children may laugh as much as 400 times per day, the average adults laughs only 15 times per day
Laughter reduces the levels of stress hormones like cortisol, adrenaline, dopamins and it increases health promoting hormones like endorphins. So laughter reduces stress, pain and conflict. Isn't it good to know you get the same injection of 'happy hormones' when you simulate or create laughter? Remember, those happy hormones strengthen the immune system, boost energy, diminish pain, and protect us from the damage produced by stress (which is grossly underestimated by most people…)
I know what you're thinking; faking laughter sounds… well.. fake! It's true, at first, simulating laughing does feel weird. And when you participate in a group, it doesn't take long before simulated laughter creates 'real' laughter.